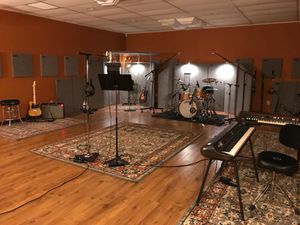 Frequently Asked Questions
Q. What are your studio rates?
A. $110.00-Two Hour Session
     $200.00-Four Hour Session
     $375.00-Eight Hour Session
Q. How many songs can I record?
A. Solo Artists can usually record up to three songs in a two hour session Whereas vocal groups would need four hours, and bands eight hours to complete up to three songs.
    
Q. Do you offer mixing?
A. Yes. Once all of the recording and overdubbing are complete. Then it is time to mix. Mixing is the process of combining multitrack recordings into a final stereo product. Tracks are edited. And then blended together using various processes such as equalization, compression, effects, panning, and volume adjustments.
Q. What are your mixing rates?
A. $55.00-Per Song/Solo Artists
     $110.00-Per Song/Vocal Groups
     $220.00-Per Song/Bands

Q. Do you offer mastering? 
A.  We recommend hiring a dedicated mastering studio, and engineer, for this type of work.
Q. What is mastering? 
A. Mastering is the final process applied to stereo mixes for industry-standard results. Examples include equalization, compression, and limiting, as well as formatting for duplication and digital release.
 Q. What are your hours?  
A. 10:00 am to 10:00 pm Wednesday thru Sunday.  (All sessions are by appointment only). Click on the CONTACT US link below for more information.
Please consider your total budget when booking your recording sessions. Recording, Mixing, and Mastering is only the beginning of a successful music release. You will also need to get your music out there. Marketing, promotion, publishing, and distribution all cost money. And once you've made a recording worthy of sharing with your family and friends, you'll want all of your future fans to hear it as well.